We just received a massive price increase
from our fastener manufacturer.
If you are a returning customer please accept our apologies, but we think we still save you over the competition!
Rest assured, we will be seeking a new manufacturer to get our prices back down!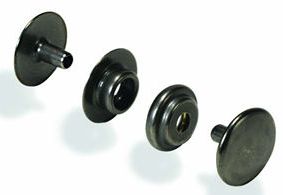 When a line 24 snap is too large, this is a great choice. They feature a 3/16&quot long post, and can be used on most medium leathers, or multiple layers of garment leather (5 to 7 ounce is ideal).
Available in nickel plated or black oxide, in packs of 10, 100 or 1000.
(order below )
Set these with our 1474 setter and 1473 cap anvil (as we prefer), or 1480 universal setter kit , or 1479 deluxe setter kit .
Our video showing how to set snaps
Items used in this video
The exact same technique is used to set line 20 snaps (the ones on this page), substituting these products


Line 20 snap setter
Instead of the Line 24 setter.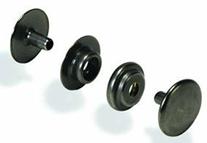 Line 20 Snaps
Instead of the line 24 snaps.