We just received a massive price increase
from our fastener manufacturer.
If you are a returning customer please accept our apologies, but we think we still save you over the competition!
Rest assured, we will be seeking a new manufacturer to get our prices back down!

Eyelets differ from grommets in the manner in which they are applied, and the end result. Eyelets fold over and grab the back of the material to stay in place (yes, we need photos), while grommets utilize 2 separate parts, which form a more finished look than an eyelet. Another difference, however, is that grommeted material is stiffer around the grommet than eyeleted material. This is because of the washer on grommets causing a reinforced area underneath. This can be great in tarps and the like, while eyelets are better where the material is in contact with skin, or where it needs to flex.
1/4&quot opening eyelets. Nickel plated steel in packs of 10 or 100
Order below .
Set these with our 1481 setter and cap anvil , which should be used on a hard surface, or with our bench anvil .
Our video showing how to set eyelets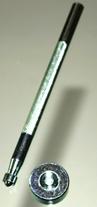 3/16&quot eyelet setter
and anvil
Additional items that can be used the same way